Wednesday, June 22, 2005
Keep Flies Away from Durian, featuring Suanie
Whenever you are trying to enjoy some good old stinky durian, there are always flies all around you trying to share the spoil. Isn't that just annoying? Don't you hate it? Furthermore, it's really unhygienic.
Now of course, the famous
Suanie
will show us the way to counter this pesky little natural phenomenon. Move your mouse pointer over to the graphic below to find out the answer.
Cheers!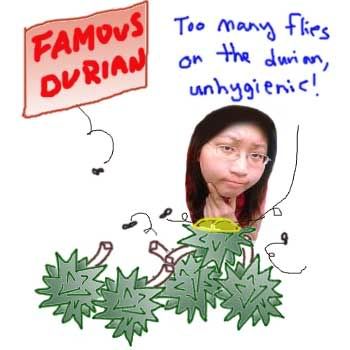 |
Check out KY drives
If you have arrived at this page via search engine or other links. Please note that I have moved. Take a look at
kyspeaks.com