Monday, October 24, 2005
KY game - UNO exercise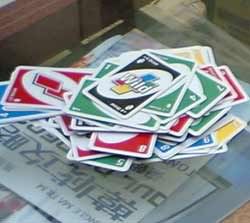 UNO, the game you have most likely played when you just about knew how to stop peeing in your pants, is a fun and exciting card game. It was a slow weekend, and since we don't wish to gamble for money nor to force each other drink alcohol (that would be FA's choice). We put in a very healthy
reward and
punishment system for the noobs.
It goes like this:
When you win, you get nothing other than bragging rights.
Loser with the 2nd highest card count gets to deal the cards for the next round.
Loser with the highest card count gets to either do push ups, sit ups, or a humiliating squat and stand exercise while holding both ears. To the number of cards you have on hand.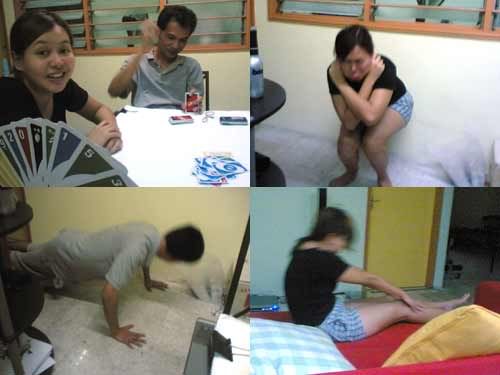 Isn't this a healthy game?

I did about 40 push ups, horny did a couple dozens too. Carol was the real athlete, she did over 40 sit ups, a couple dozen squat and stands, and probably around 10 floor hugging push ups. Huey Fang and Chan got away without having to do anything tho.. those lazy noobs. hehe.
We used to play the Chinese card game Big Two (chor tai tee) that way too. But if the game ended and you have 13 cards on hand.. it's a painful 39 push ups... Try it, and get healthy!
|
Check out KY drives
If you have arrived at this page via search engine or other links. Please note that I have moved. Take a look at
kyspeaks.com